Your Total Transport Solution
OFFERING ONLY THE BEST TRANSPORT SERVICES
Premium Transport Solutions
Upper Clutha Transport is a long established transport business with depots in Wanaka on Ballantyne Road and in Luggate on the Main Road. The Company has built up a large fleet of modern trucks and earth moving equipment perfect to take on any earth moving or transport job. As the team says, we can do it all.
Read About Us
On land or by boat, we'll get it there.
We strive to offer a range of transport solutions to suit a range of business requirements.
Fertiliser & Lime Spreading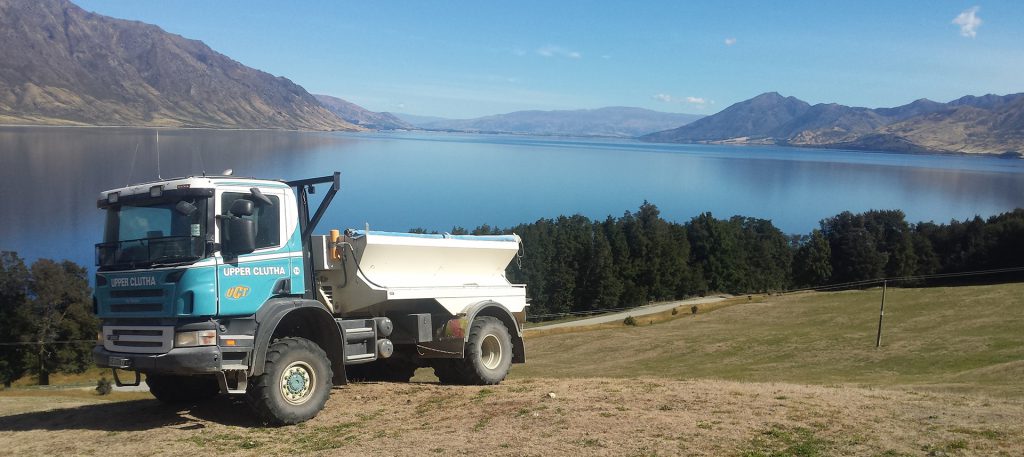 UCT Luggate have been providing the farmers in the Upper Clutha region with an efficient and reliable spreading service for many years. Our modern 4×4 spreaders, including mini spreader for smaller jobs and crops, are computerised with precision GPS, and our self unloading trailers enable our sowers to be self sufficient.
Learn More
Transport & Contracting Solutions
We offer a range of Transport and Contracting solutions. Ranging from Excavation, Live Stock Transportation, Fertiliser & Lime Spreading and more.
Allied Fuel Stop

Upper Clutha Transport owns and operates the Allied Fuel Stop at 78 Ballantyne Road.
The most affordable place in Upper Clutha to purchase fuel.
Fuel Available: 95, Unleaded 91, Diesel, Ad Blue.
Cards Accepted: VISA, MasterCard, EFTPOS, Mobil, Allied, Rural Co, Farm Source.
Upper Clutha Transport also owns and operates an Allied Diesel Stop at Luggate Branch SH 6 Luggate